Poem on Daughters, Save, Educate And Let Them Step Ahead (Save Girl Teach Girl) .
एक मां ने अपनी बेटी के मन की बात को एक सुंदर कविता के रूप में पिरोया है ।
Save Girl Teach Girl
( Poem on Daughters)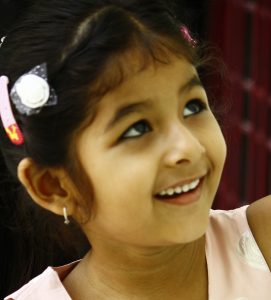 Oh! papa ……
See I am your beautiful pearl,
Thanks for introducing me in this world.
Oh! papa ……
Keep me safe and love like flower,
Do not kill me and hate every hour,
Give me freedom and give me the power,
Just rely on me and one day I will become a new star…
Oh! papa ……
Give me courage and make me bold,
Do not try to keep me in hold,
Now this saying "Educate the boys more and let the girls learn the household chores",
has truly become old.
Oh! papa ….
I know sky is not the limit,
But when it comes on the girls you think for every minute …..,
Why is it so?
And why at that moment do you feel yourself to be low?
You were always been my hero and to see you scared I really feel bad.
Oh! papa ……
I know it is your love and care,
But I am today's is girl quite educated and aware.
Oh! papa ……
Look at me,
I am your sweet bird,
Just give me the wings and let me fly,
One day I will reach to the top of the sky,
One day for me you will be proud,
And will say to everyone that your decision was right …… aloud.
Oh! papa ……
Even I am so lucky to have such a father,
In order to give me the best education,
you  really worked harder…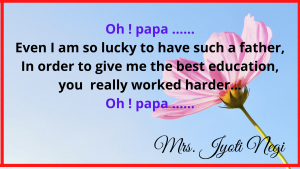 Mrs. Jyoti Negi
( A Beautiful Poem On Daughters)
You are welcome to share your comments.If you like this poem .Then Please share it . Thanks for visiting.
यह भी पढ़ें..
जानें …. क्यों मनाया जाता है Daughter's Day
क्या है सुकन्या समृद्धि योजना ?
मैरीकॉम क्यों है युवाओं के लिए प्रेरणा स्रोत ?
26 जनवरी को ही क्यों मनाया जाता है गणतंत्र दिवस?